Backpacker Basics: World Budget Travel Table
Before trotting off to some distant part of the world, unless you're lucky enough to be super rich you'll almost certainly have a budget in mind. However it can be hard to predict how much you will spend in countries you've never visited and know little about. If it's your first time backpacking then it can be almost impossible to know how much you're likely to spend. This page will hopefully help you make at least an educated estimate!

The Budget Travel Table suggests a realistic daily travel budget for backpackers in 75 countries around the world. It is based on staying in a cheap room or dorm in a budget hostel. It takes into account typical transport costs within a country. It is based on eating local street food, in budget restaurants or self-catering and averaging a few alcoholic drinks every night in a non too swanky bar or disco. It includes the cost of some cheap typical daytime activities such as visits to museums but expensive activities such as safaris or thrill-seeking sports are optional extras and not included in the calculations.

We've come up with the figures from our own backpacking experiences and where this hasn't been possible (we've not been to Uzbekistan lately) by consulting several sources to come up with hopefully a realistic figure. This is only intended to be a guide and obviously everyone is different. Prices can vary within countries, for example big or capital cities are often more expensive as are popular package tourist regions such as Cancun in Mexico for example so bare this in mind when planning your trips. If you're on a tight budget consider visiting outside of the peak season (this differs from country to country) when prices can sometimes rise sharply.

The table uses US$ which is the reserve or even main currency in many countries around the world.

As of May 2013, US$1 is worth..

Euros: €0.77
British Pound: £0.66
Aussie Dollars: $1.02
Japanese Yen: ¥103
Canadian Dollars: $1.03
Dirt Cheap Destinations!!!
These are the world superpowers of budget travel. It is possible and fairly easy to get by on $15 a day. In these countries $2 can often get you a room for the night, transport you 200km or even buy a fairly large round at the bar. Staying in these countries budget around $100 a week. A whole year of travel on this sort of budget can set you back as little as $5500 (£3740).



Nepal $15
Bolivia $15
Ethiopia $15
Malawi $15
Vietnam $15
Cambodia $15


PIC: zebras in Malawi, the perfect place for a budget safari.


Still Ridiculously Cheap
Some fascinating countries in this lot and still remarkably cheap travelling. Think around $140/week (£95). A year in these countries works out at approx. $7300, still under £5000.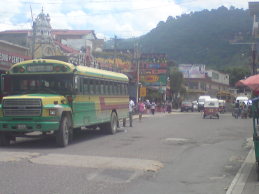 Laos $20
Thailand $20
Nicaragua $20
Ecuador $20
Guatemala $20
Ghana $20
Kenya $20
Iran $20
Mongolia $20


PICS: Travel like the locals on a Guatemalan chicken bus and Bangkok's budget travel hotbed, the Khao San Road.


Pretty Cheap
If you're from a western country you'll still find these countries very cheap and prices around half what they are in Western Europe or the USA and Canada. A year mostly in these countries, you'll be looking at about $10000 (£6800).


Malaysia $25
Indonesia $25
India $25
Egypt $25
The Philippines $25
Myanmar $25
Peru $25
Sri Lanka $25
Ukraine $25

Jordan $25
Zambia $25
Colombia $30
China $30
Paraguay $30
Turkey $30
Estonia $30
Romania $30
Costa Rica $30
Serbia $30

Morocco $30
Mexico $30
Taiwan $30
Tanzania $30
The Gambia $30
Mozambique $30
Senegal $30
Uzbekistan $30


PICS: Borobodur in Indonesia, the train Station in Lviv, Ukraine and the sunsets over Beijing, one of the cheapest big cities in the world.
Mid-Range
A real cross-section of countries from different regions are sitting comfortably in mid-table. Even wealthy places like Hong Kong and Singapore make it and the rapidly developing Brazil. You're looking at $270 a week and over $14000 a year, around £9500.



Hungary $35
Poland $35
Czech Republic $35
Russia $35
South Korea $35
South Africa $35
Fiji $35
Chile $35

Argentina $35
Uruguay $35
Singapore $40
Hong Kong $40
Brazil $45
Portugal $45
Croatia $45


PICS: castle in Budapest, one of Europe's cheapest capitals & the Hong Kong skyline from Victoria Peak.
Expensive
If you've just arrived from South East Asia or Central America you're in for a nasty shock. Backpacking bargains will seem like a distant memory almost as quickly as your trusty savings will diminish. 3 months travel in these wealthy nations can amount to over $5000, roughly the same as a whole year in the cheapest countries in our table.



Spain $50
Israel $50
Greece $50
Holland $50
Austria $55
Britain $55
Ireland $55
Germany $55

Canada $60
USA $60
Iceland $60
New Zealand $65
Australia $65
Italy $65


PICS: Sydney Harbour Bridge, the Camp Nou in Barcelona and stylish Vienna.


I'm a Backpacker Get Me Out of here!
$10 for a beer. $40 for a bed in a dorm. You cannot be serious!! Norway again comes last in the 2013 Budget Travel Table and gets the dubious honour as the most expensive country to travel in, although all of Scandinavia is extortionate. Think over $2000 a month (£1360) when visiting these countries. Don't bother coming for long periods unless you have some serious funds or a job lined up.



France $70
UAE $70
Switzerland $75
Japan $75
Finland $75
Norway $80


PIC: Expensive and Cold: travel in Scandanavia.

4 TIPS TO HELP REDUCE YOUR BACKPACKING COSTS

1) In more expensive countries you can cut down your budget considerably by using couchsurfinginstead of staying in hostels which can be as much as $30/night just for a bed in a crowded dorm.

2) If you don't want to couchsurf, you can often quickly get a rough idea of hostel prices in a country by browsing onhostelbookersand looking at the typical cost of accommodation in a few different towns.

3) Use travel forums to get an up-to-date idea of how much it costs to travl in an individual country or region. Prices can chang quickly in some parts of the world and always increase sharply during festivals or in peak seasons so it's worth bearing this in mind when calculating your backpacking budget.

4) In Europe consider getting arailpassinstead of paying for individual flights, coaches or train tickets. In some countries hitchhiking is safe and still fairly common and is another way to significantly reduce travel costs.
---
You may also want to check our our regional backpacking budget guides:
Europe Travel Costs | SE Asia Travel Costs | Latin America Travel Costs
---